Polls and Trends: These days, most Americans are too blinded by division and ideological rigidity to allow themselves to make a fair assessment. Hence, few who didn't support Biden when he ran for president will change their minds and give him favorable marks, regardless of the results his administration produces.

As a result, and due to the extreme division, any score over 55 percent from a reputable pollster should be considered good.

If you're a Biden supporter, you probably want to see him a little higher than the 53% rating given here by NBC. Because polling has had a Democratic tilt the last 5 years and the electoral college set-up favors Republicans (because rural states are over-represented), this president needs consistent scores of at least 54% to keep his job safe.
__________
Majorities approve of the president's handling of the pandemic and the economy in a new NBC News poll, but strong divisions remain.
WASHINGTON — As President Joe Biden nears his 100th day in office, slightly more than half of Americans say they approve of his job performance. Biden gets his highest marks on handling the Covid-19 pandemic and his lowest on the situation at the southern border.
Those are the results of a new national NBC News poll, which also found a public that's largely supportive of Biden's top legislative priorities; more optimistic about defeating the pandemic; and more bullish about the country's direction than it was back in January.
"What we don't know is if this is part of a 100-day honeymoon or something more durable and lasting for the Biden-Harris administration," said Democratic pollster Jeff Horwitt of Hart Research Associates, who conducted this survey with Republican pollster Bill McInturff of Public Opinion Strategies.
"What we do know is that Joe Biden's presidency is meeting the times," Horwitt added.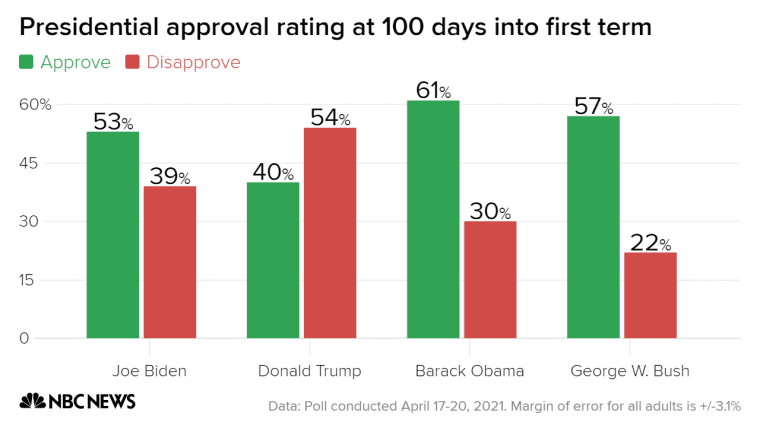 Tags:
Joe Biden
,
presidential approval