Half of Americans say evangelical Christians will lose influence
As Joe Biden navigates the first few weeks of his presidency, Americans have distinctly different views of which groups will gain influence – and which ones will lose influence – in Washington during his administration.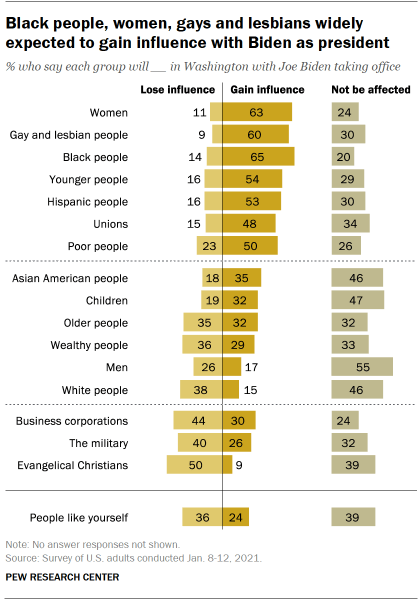 Nearly two-thirds of U.S. adults (65%) say Black people will gain influence in Washington with Joe Biden taking office. Just 14% say Black people will lose influence, while 20% say they will not be affected.
Large shares of adults also expect women (63%) and gay and lesbian people (60%) to gain influence over the next four years. Only about one-in-ten expect each of these groups to lose influence.
Other groups expected to gain influence include younger people (54%), Hispanic people (53%), poor people (50%) and unions (48%). Relatively small shares – no more than about quarter – say any of these groups will lose influence during Biden's presidency.
MORE ON THIS STORY FROM PEW RESEARCH…