In protest of the 2020 U.S. Presidential Election results, Trump supporters stormed the U.S. Capitol Building in Washington, DC yesterday, hours before Congress was to officially confirm the election's outcome in what's typically been a ceremonial event.
The Senate chamber was breached as well as multiple offices of Members of Congress, including the office of Speaker of the United States House of Representatives Nancy Pelosi.
Taking full advantage of DC's awful level of security preparedness, protestors broke windows and doors to get into the building and subsequently ransacked halls and rooms while woefully outnumbered Capitol Police drew their guns and Members of Congress took cover.
President Trump eventually denounced the protestors' attack on the Capitol but perpetuated false claims of election fraud during his message.
In the end, at least one person was shot and killed, three succumbed to medical emergencies and at least one explosive device was found in the area.
It was a sad day for American democracy as rioters sought to revolt against legal presidential election results, even after state governments, state courts and The Supreme Court concluded there was no reason to believe the outcome was anything but fair and legitimate.
So, what do voters think about what happened yesterday?
Trump supporters storm Capitol: Poll
A preliminary YouGov Direct poll of 1,397 registered voters gives us a ballpark idea of what American voters are thinking. Again, this is an early survey. More accuracy, as it relates to Americans' sentiment, will be gathered in the coming week.
Biggest Stat: Roughly 62 percent of voters believe yesterday's actions in DC represent a threat to democracy.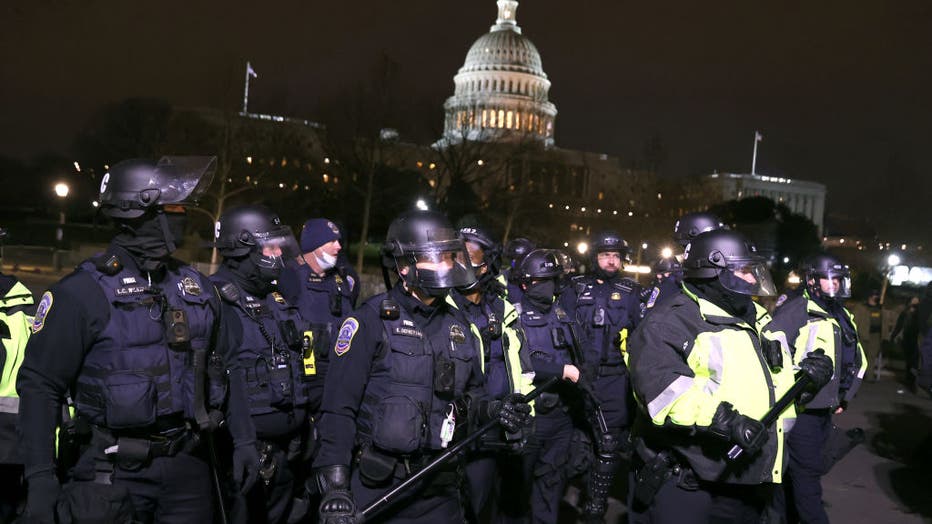 Of course, there are sharp differences in perception, based on party affiliation.
Were the protesters' actions a threat to democracy?
Democrats – 93 percent
Republicans – 27 percent
Independents – 55 percent
Republican sentiment is quite shocking. In fact, 45 percent of Republicans back the actions of those at the Capitol yesterday. while 43 percent of Republicans oppose the action even though only some of the latter believe storming the Capitol was a threat to democracy.
Overall: One in five voters (21 percent) say they support what happened at the Capitol
President Trump's response
Fortunately, 63 percent of overall survey participants "strongly" oppose the actions taken by President Trump's supporters; Another 8 percent say they "somewhat" oppose his response.
Overall: 71 percent say they oppose or somewhat oppose how Trump handled the situation
Violent or peaceful?
Not surprisingly, Republicans think the demonstration was more peaceful than violent by 58 to 22 percent. Among all ideologies, however, 59 percent perceived the demonstration as more violent than peaceful.
Who is responsible for the storming of the Capitol?
Republican Senator Mitt Romney laid the blame for the breach squarely at President Trump's feet, saying "This is what the president has caused today, this insurrection".
Is President Trump "a great deal to blame" for the actions of those who charged the Capitol?
Overall, 55 percent believe so while 11 percent insist, he' s partially responsible.
Overall: 66 percent believe Trump was responsible or partially responsible
Are the Congressional Republicans who said that they would vote against certifying the election results "a great deal to blame?"
About 42 percent think so while another 20 percent say they are partially to blame.
Overall: 62 percent said Congressional Republican Trump enablers were responsible or partially responsible
Remarkably, 17 percent of those polled think President-elect Joe Biden is a great deal to blame while 9 percent say he's somewhat responsible.
Overall: 26 percent believe Biden is at least somewhat responsible
Should Trump be removed via the 25th Amendment ASAP?
Democratic lawmakers including Ayanna Pressley and Ilhan Omar have called on Vice President Mike Pence to invoke the 25th Amendment and remove President Trump from office in light of yesterday's events.
What do Americans say?
Half (50 percent) of voters think Donald Trump to be removed from office immediately because of what happened today. But 42 percent say such an action would be wrong. Of course, 85 percent of Republicans insist there's no reason for the 25th Amendment to be invoked.

Of note, Independents support his removal 47 to 42 percent.
Biggest takeaway
Obviously, there's difference in opinion based on party affiliation. But, we're seeing a split among Republicans' opinions and it may indicate a possible inter-party rift, especially if Trumpism persists.
That split among GOP voters may partially explain why Biden carried red states Arizona and Georgia, and why Democrats flipped both of Georgia's U.S. Senate seats earlier this week.
Polls and Trends Fact: Although most Republicans seem to adore Trump, not all are true "Trumpers". Even among high-profile GOP politicians, we've seen Trump dissent.
The following high-profile Republicans represent just a few who have expressed disdain for Trump since 2017:
Former President George W, Bush
Former Secretary of State Colin Powell
Late Sen. John McCain
Sens Mitt Romney, Ben Sasse and Susan Collins
Current and former governors Larry Hogan and John Kasich, respectively.
Of Republicans, and per the YouGov Direct poll, 27 percent believe yesterday's actions by Trump rioters was a threat to democracy, 22 percent consider the demonstration violent and 15 percent favor his outright removal from office.
And again, most Independents – 55 percent – say the protest was a threat to democracy.
Based on the poll numbers, a least 1 in 5 (or 20 percent) Republicans seemed to take serious issue with what happened yesterday.
While that may not seem like much, it's significant considering the level of polarization in American society; Especially since 93 percent of Democrats appear to be in agreement about yesterday's riot and more Independents than not apparently share Democrats' opinions on the topic.
At this moment, with 15 to 25 percent of the GOP and the majority (55 percent) of Independents reacting negatively towards yesterday's events, most Americans overall (62 percent) aren't content with Wednesday's episode.
Don't be worried, yet: Nowhere near half of America is – in any way, shape or form – content with what happened yesterday. Just 21 percent of Americans support the DC riot and far more Republicans are disappointed than Democrats who are not.
Tags:
U.S. Presidential Race 2020